18 Jan

New Year, Bigger Pockets: Changing My Money Mindset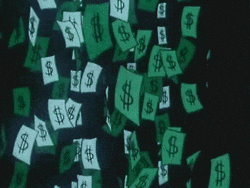 Alright if you were wondering, "Where the hell has Patty been"? I've been in full-on hibernation mode. Across the US, it is cold AF. Seriously! I've been traveling, but I've been locked up in my room. And when I'm home, I'm still locked up in my room. It's way too cold outside for me, but I promise I'll do better. Since the beginning of the year though, I've been working on getting my ducks in a row. I've signed up for some free Coursera courses, bought a few cans of paint, and given myself a little bit more "me" time. I've been reading a lot more too (travel and reading go hand and hand if you didn't know).
My latest read – "You're A Badass at Making Money" by Jen Sincero. It's a pretty good read too. For any of you that have read "Think and Grow Rich" by Napoleon Hill, it has a similar ideology.. In "You're A Badass at Making Money", Sincero talks about changing your "money mind" in order to see results in your wallet. If you change the way that you think about money, then money will come. You must understand that in order to receive money you must express gratitude, lead with blind faith that it will come, have an abundance mindset, take action, and know that you're worth the money that you would like to receive. Simple enough, right? The problem: most people can't see beyond the present or don't know their real feelings on money.
When I took the time to access my own relationship with money, I realized that I was angry, and bitter that my good friend money didn't come on time. I felt like there wasn't enough money and I couldn't make the money that I wanted. Well my friends, I know now that if I accept that as my truth I will stay broke. And who wants to stay broke? Not me. So I've taken the oath to change my money mindset and here's how I'm doing it:
1. I changed the way I looked at money.
I know that I am worthy of making the money that I would like to earn. Money is my friend and I now know that its okay to love and cherish money as such. Too many people (including myself at one point) believe money is evil and causes problems, however, how can you expect something to come to you if you believe that it creates problems in your life? I know if I was your friend and you believed I caused problems, I wouldn't come around that much either. Instead, I've learned to appreciate money and focus on the "why I want money" instead of "why I don't want money". Money is a great tool. It allows me to do the things that I'd like to do in life and create happiness in the lives others.
2. I became grateful for the money in the bank, the debt on the cards AND the student loans.
Whoa! Did I really just say that? Yeah, you read that right! I became grateful for the debt too. I became grateful that the money on those credit cards was there when I needed it. I became grateful that the money to go to school was there when I needed it too. There is so much hurt and pain around debt, however, at one time that debt allowed us to do something that we wanted to do. In that moment when we created the debt, we were happy and we must be grateful for that moment of happiness that it created for us
3. I decided that I will be rich.
I just cringed a little bit as I wrote that. Telling the internet just made it so much more real. Yes, I decided that I will have the lifestyle I deserve and I am willing to put in the work to do it. Hold me accountable people! Deciding to be rich and have wealth means that I will no longer allow myself the excuses that I'm used to accepting. *cue the sad music* oh, I cant because… oh, I tried but… oh, what happened was…. oh, I can't charge that because… blah, blah, blah… Today, you have my word that I am committed to moving forward and making things happen instead of pretending that I want it. I am strategizing ways in order to make it happen, doing my research, and working on making things happen for myself.
4. I'm envisioning what my life will be like once I have the money.
This is my favorite part. I'm envisioning my life beyond my present circumstances. I get all geeked up and happy every time I think about what I can do with the money. Seeing those dollar signs in my bank account has been like… "I am the real MVP. I'm going to be dripping with gold like Gucci, making money like Bezos." And you know what… "I'm readyyyyyyyyyy!"